Examples of work
Here are a few examples of work that Goznet Systems has been commissioned to produce. They cover a range of different customers, and should give a good feel for what we can do to help you or your organisation make the most of being "on the web".
Good websites are dynamic and change frequently, and most Goznet Systems sites are able to be edited by their respective customers. The images and descriptions on this page relate to the time at which they were added, and consequently in some cases may not reflect current reality!
Please also check out our frequently-updated blog at www.kourou.co.uk for latest news and developments.
Airbrush artist
The Urbanist is one of the world's leading airbrush artists – and reputedly the fastest working. With new representation bringing a greater focus to promotion, he needed to replace his two existing sites with one combined one.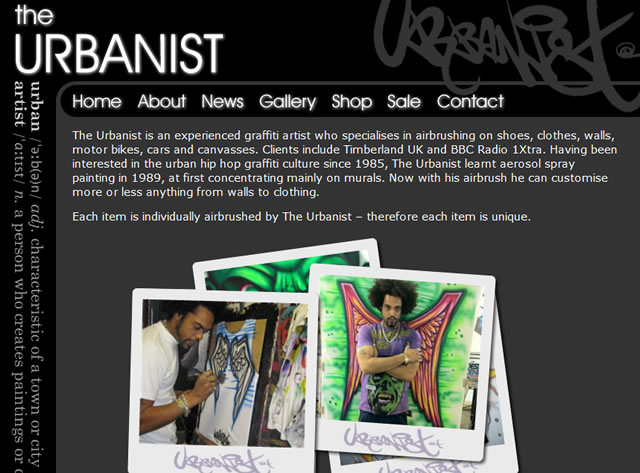 With an appearance on ITV's Daybreak as a deadline for the first phase of development, the website was another quick win for the Kourou content management platform. The site includes judicious use of Flash and Javascript-based animation on the home page, and heavy use of the square_thumb_gallery plug-in to show off The Urbanist's fantastic designs.
The second phase of the website's development included the addition of shopping pages, where customers can either buy ready-painted t-shirts and other garments or design their own personalised items. PayPal is used as the payment handling gateway.
Spanish apartment letting
Roda Golf Holiday Lets offers a self-catering apartment at the prestigious Roda Golf and Beach Resort near Murcia in southern Spain. Like anyone offering accommodation, the owners understood the importance of a web presence and for potential guests to be able to view availability and pricing, then book on-line.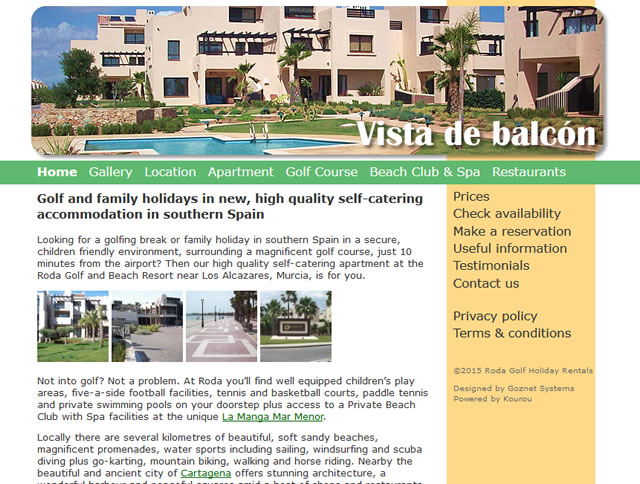 It will be of little surprise that the website was built around the Kourou content management platform, with custom plug-ins managing the availability calendar, price list and booking form. The site is also the first to use our new square_thumb_gallery image viewing plug-in, making it incredibly easy to add stylish photo galleries to Kourou-powered sites. The website is deployed using the clients' own web-space, made possible by the intentionally lightweight and industry-standard resource requirements of Kourou.
Football freestyler
Billy Fincham is a top football freestyler, who needed a good-looking and streetwise website to promote his skills and attract bookings.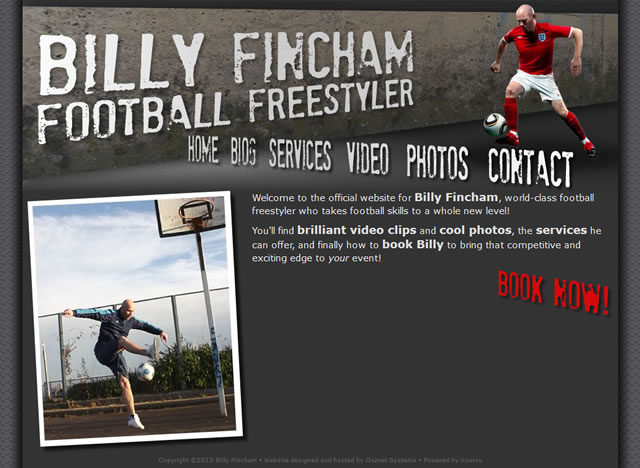 The website is implemented using the Kourou content management platform, with punchy graphics produced in Fireworks. The photo gallery uses the popular Lightbox2 system, whilst the video content is presented using FlowPlayer – highly cost-effective and time-saving tools for linking in rich media. Realising that the striking masthead graphical menu may be somewhat overwhelming on smaller devices such as netbooks and mobile phones, intelligence is built in to deliver a more compact layout when screen size dictates.
Local self-employed builder
Arthur Boustead is an established locally-based builder and joiner who wanted a simple website, both as an advertisement for those seeking his services and also as somewhere to refer potential clients making contact in more traditional manners in order to see the variety and standard of the work he can offer.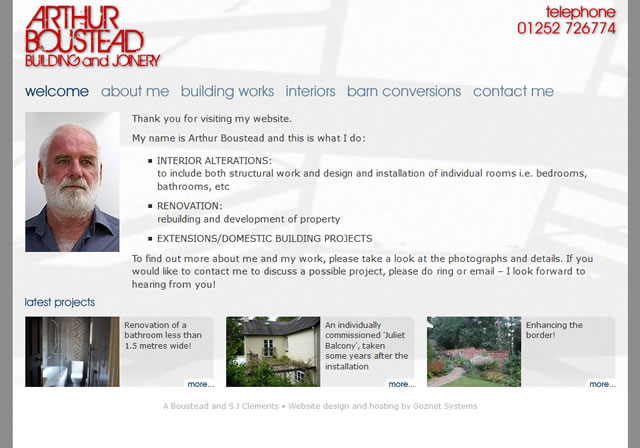 After a short face-to-face consultation, Goznet Systems produced a visual mock-up based upon existing business stationery and with an intentionally "retro" feel. Once photographs and descriptions of the projects Arthur had completed over the more recent of his 35 years trading were finalised, the website itself was created using the Kourou content management platform.
Local gardening service
MAN with MOWER is a new start-up lawn-mowing and general gardening business, and like every organisation wanting to engage with people in the 21st century, a web presence from the word go was an essential for client credibility.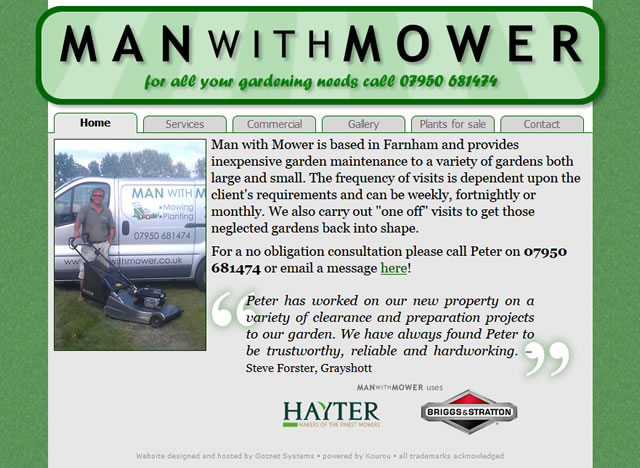 The site has only three pages, but gets the required information across in an attractive and contemporary manner, with plenty of opportunity for nice photographs (and indeed extra pages if need be) as the business and client base develop. Like most of Goznet Systems' sites, the Kourou content management platform is employed throughout, including use of the new simple_feedback plugin for the spammer-resistant contact form.
Google Maps mash-up

Goznet Systems have proved to be very reliable and fast in making a wide range of amendments and improvements to our website. They managed some requirements with noticeable ease which other developers had seemed to struggle with.

Urang Group are a large London based property management company, and in 2008 Goznet Systems took on some of the ongoing maintenance for their website. Amongst other more routine content updates, the company needed an updated interactive map of their 1500+ managed properties. Previously this had been implemented using Flash, but the relevant source files were not available for further modification, so an all-new map was produced using Google Maps in conjunction with an easily maintainable list of property locations and geographical coordinates for London outward postcodes.
The rich Google Maps application programming interface will help enable easy updating of the map in future, and allow inclusion of photographs and other information as required. The website as a whole continues to use static HTML for the time being, but where appropriate this has been enhanced by the in-situ use of server-side includes and PHP, and a more significant reworking of the site is being considered.